---
---

---
Seattle female laundry workers were a singular population. The average Seattle laundry "girl" was older than other female employees. Plus, over one-third were married — a much higher rate of married women than in other occupations of the time. The laundries also attracted a number of 'women adrift', or women who were forced by circumstance to live independently.
Again, this was a larger number than in other occupations.
A 1913 survey found that 62% of all Seattle laundry workers lived on their own, "supporting themselves with no help from family members". Involved in the toughest work, this group far surpassed the number employed at other jobs. The next highest group of self-supporting females were mercantile workers. Laundry girls - 35% of whom lived alone - would clearly benefit from union protection.
But there was another reason laundries interested union organizers. This was their very large number of employees. Due to their harsh conditions and unusual profile, female workers in the laundries had a "stupendous turnover rate". It was, in fact, a whopping 357%. Plus this rate was highest where their bosses cared the least, especially in Seattle.
As Andrew Lind noted in his 1925 publication "A Study of Mobility of Population In Seattle":
"The laundries providing the best of labor conditions have a labor turnover of 150% while others, less solicitous for the welfare of their employees change their complete working force as many as five times during the year."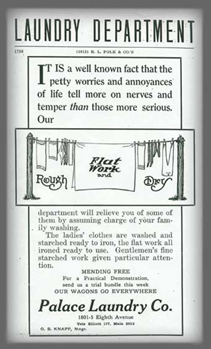 As the Seattle Union Record would remark, D.C. Keeney's Seattle Empire Laundry had "the worst" of reputations. This meant, of course, plenty of discontented girls to organize.
Women chose laundry work out of desperation - a fact apparent in period literature as much as social reform. In Edith Wharton's classic 1913 novel "The Custom of the Country", a character is defamed by the "careless" remark "Oh, his first wife was a laundress, I believe." Howard Zinn's "A People's History of the United States" cites this quote from a 1909 study of women working in steam laundries: "How would you like to iron a shirt a minute? Think of standing at a mangle just above the washroom with the hot steam pouring up through the floor for 10, 12, 14 and sometimes 17 hours a day! Sometimes the floors are made of cement [as at the Seattle Empire] and then it seems as though one were standing on hot coals, and the workers are dripping with perspiration. ..They are...[also] breathing air laden with particles of soda, ammonia, and other chemicals."
In the sociology of visual art, the laundry girl has a long history as an icon. At the 2001 Venice Biennale, Afro-Cuban artist Maria Magdalena Campos-Pons created a multi-media homage to the laundresses in her family. But, for years before, the laundry girl had served as the muse to socially conscious artists as well as those too poor to hire a model. In 1884, Edgar Degas painted a famous work entitled "Laundry Girls Ironing.".
During his Blue period. Pablo Picasso also painted laundry girls. In fact, as late as 1946, he was still using the term for its implications of despair. When he took girlfriend Françoise Gilot to meet Germaine Pichot, his early model and lover, Picasso was about the same age as Pichot. Yet she was ill and toothless. The artist told Gilot that he had known her earlier as 'a young laundress'.
Picasso's biographer John Richardson puts it differently: "The wretched Germaine has been downgraded from 'model' to 'laundress'."
One such employee, at the edge of a different continent, was a Seattle resident whose real struggles would prove influential. She was Mrs. Lemuel Beck - the mother of one young David Daniel Beck. Her family had lived in poverty near the future site of the 1914 Seattle Empire, at 304 Bell St. (later, they moved to 815 Pike St.). In his eventual role as "the most powerful and dynamic leader in Teamsters history", David Daniel Beck would remember his mother's plight in the Palace Laundry.
Dave Beck took his first job alongside "laundry girls", the year after Seattle Empire Laundry opened. D. C. Keeney's new power laundry was an imposing structure. Yet, inside, conditions made it little better than a white slave camp. In the midst of this grueling factory, however, his employees created a singular women's work culture. It was visible in the building's very architecture - partly because most jobs were segregated floor by floor.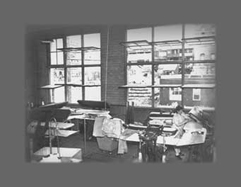 The women's skills were intrinsic to the laundry's assembly line but its "laundryman" owners saw the workers as no more than part of the plant's machinery.
Looking inside a building such as the Seattle Empire, one could easily understand why. Incoming laundry was delivered to the basement - either from the "Will Call" office at the corner of Western and Bell streets or by laundry trucks that entered on the Eastern side.
The building's lowest level, made of concrete, housed the laundry's heaviest work. (It also housed two toilets.) Here were the Corliss boilers, the wringers and the extractor, all except the boilers themselves run and tended by women. The washers slopped boiling water over onto the concrete: where the women stood for long hours, often six days a week.
After 1914, Seattle laundry girls had a legal minimum wage but it was rarely honored by owners. There were no real minimum hours and no lunch breaks, either - only a five-minute rest period every four hours. The basement work required the use of heavy chemicals and it was carried out in poor light with bad ventilation. Only three years after Seattle Empire Laundry opened, the city's laundry girls petitioned for legislation against "work in basements".
Most of the laundry's technology was dangerous. In addition to hot irons, the steaming "mangle" and toxic chemicals, there were necessary engines such as the extractor. This primitive spin-drier traveled at up to a mile a minute and , if halted suddenly, it could easily sever a limb. The many stories of women "scalped" when their loose hair had been caught in the extractor became laundry legends around the country - and the world.
The universe of the "laundry girl" was harsh and exhausting and required constant vigilance. As early as September 1, 1887, the Laundry Journal had described the industry's female employees as "waste girls".