Seattle Empire
Laundry is built
by Puget Sound
---
Dawn of 1914 sees plant
hailed by Pacific Laundryman
as "Modern Throughout"
---
The Seattle Empire Laundry, seen in 1915, was a purpose-built, "power laundry", run by steam. It had opened only a year before the photo was taken.
Once a familiar and ubiquitous sight in American cities, the power laundry was also unique in terms of technology. It used steam and gas power, hand-guided as well as treadle-driven machinery.
At every level the industry relied on female expertise, from the customers who judged work to the girls who executed it. In 1914, the Washington State Industrial Insurance Commission reported 3,540 "inside" employees at work in 195 power laundries. Four-fifths of these were women, yet almost all bosses and all owners of these laundries were male.
WOMEN STABBED AND BYSTANDERS HURT
---
Pepper, Hatpins, Knife and
Feminine fists fly in Battle
---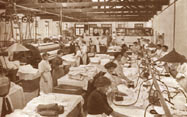 ---
In 1917, the desperate workers of Seattle's laundries went on strike for the right to unionize. It was the start of a twenty-year battle against the might of a powerful laundry owners' cartel. For most of 1925 and 1926, laundry "girls" continued to fight the many attempts to crush their union.

Finally, in 1932, they launched a citywide strike, one that erupted into violence. This strike was finally won by those women at the Seattle Empire Laundry. The union they thus established remained for two decades Seattle's largest organized coalition of women workers.
---
---
LAUNDRY GIRLS MAY AT LAST GET
LIVING WAGE
---
---
The Mother of the famous Teamsters President Dave Beck (seen above) was a former struggling "laundry girl". This little-known fact played a role in the union leader's special crusade during the 1920's: the settlement of Seattle's longest laundry labor dispute.

Seattle female laundry workers were a unique group, known in their city as "the most ill-used of toilers." Dave Beck's mother had herself worked for the Palace Laundry, a job her son always recalled as virtual slavery.
---
---
GIRLS REVOLT AGAINST STARVATION WAGES AFTER YEARS